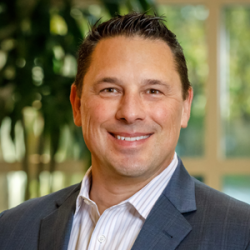 Vince Rokose joined First Financial Security, Inc.'s executive team in November 2014. His 30-year industry career began at Merrill Lynch shortly after graduating with a Bachelor of Science degree in Accounting and an MBA in Finance. His early experience focused primarily on accounting and finance roles working with retirement and incentive programs for large businesses, then branch office profitability.
From there he moved to Georgia to work for several industry leaders, including a few organizations that share a similar business model with First Financial Security. During this time, he developed systems and tools to measure and improve agent and office performance, assisted in the development of field leaders, led an investment advisory firm and was part of overall corporate development and strategy.
Vince joined FFS as the Chief Operations Officer and transitioned to Chief Marketing Officer several years later. In 2021, he was promoted to President of First Financial Security to lead the company in implementing the FFS vision. "Families need what we provide in terms of the products that we represent and the business opportunity that we offer," explains Rokose. "I look forward to working closely with our field leaders across the country to help them have a positive impact in their communities and to help those people achieve financial security and peace of mind."
Vince lives with his wife, Suzanne, in Johns Creek, GA, and they have two children, Olivia and Davis. This athletic family enjoys spending time playing and watching a variety of sports together, including tennis, hiking, baseball and golf.