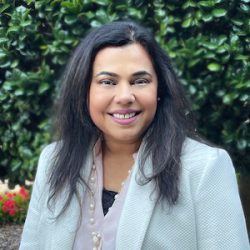 "The FFS mission to empower people feels very close to my heart," says Vibi Shah, First Financial Security, Inc.'s Human Resources Generalist, who joined our team in February of 2022. "The welcoming family culture attracted me to work for FFS."
After setting out to become a civil engineer, Vibi's passion for helping people made her pivot to Human Resources, where she could still use her talents for development and design but focus them more directly on improving daily lives. Following a master's degree in Human Resources, Vibi worked in H.R. roles for medium- and large-sized corporations throughout various industries for over ten years.
She moved south from Chicago to Cumming, GA in 2021 to look for new opportunities. "I was seeking a small company where I could design and develop H.R. processes and impact people's lives," Vibi says. "I enjoy creating a motivating and enriching workplace for employees to achieve their career goals." For Vibi, an environment filled with happy people is what powers the most successful companies.
Vibi oversees all H.R. functions at FFS, from developing policies and designing processes to employee engagement and relations. In between, she handles benefits, training, compliance, payroll, performance management, and much, much more. Her focus has been to foster a vibrant and positive company culture. Since her hiring, our office has been filled with smiling faces.
In her free time, Vibi can be found baking, experimenting with new recipes and cooking up a storm. A woman of many talents, she has been a national champion of free and figure rolling skating for three years. Today, she lives with her husband and two sons, exploring all of the food, art and experiences that come with good Georgia living.