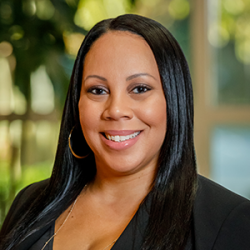 For Sandy Dos Santos, constant success is invigorating. Starting as Manager of First Financial Security', Inc.'s New Business Department, she is no stranger to the challenge of managing accounts and business operations on a daily basis. Since 2021, she has been applying those skills to the challenge of growing our business through Premium Finance as Manager.
As Sandy puts it, "I work well under pressure – organized chaos. It excites me that I can be both innovative and hands-on with what I love doing every day. Being able to put a smile on both my internal and external customers' faces – that's important for me."
Sandy came to First Financial Security in September of 2018 with an extensive background in executive leadership and operations management ranging from Financial Services, Healthcare, Non-Profit, and Transportation. After graduating with a Fashion Merchandising/Business Administration degree from Johnson & Wales University in Rhode Island, she spent time working in retail management before finding her passion for working in call centers and business operations. Following a philosophy of Operative Leadership to balance motivational and targeted coaching methodologies, Sandy enhances the overall performance of her team by focusing on four key principles – Customer Focus, Technical Knowledge, Efficient Response, and One Touch Solutions.
Sandy was drawn to First Financial Security through all the great things she heard about the CEOs, employees, and the LiSA Initiative. Sandy's favorite quote is, "Perseverance – the greater the obstacle, the greater the glory in overcoming it." This quote drives her passion for helping to educate our local communities on the importance of financial security.
Sandy enjoys spending her time with her husband, Chris, and their two beautiful daughters, Asia and Audriana. They can usually be found outdoors boating, exploring new cities, and watching one of their favorite sports teams.