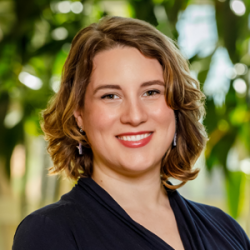 Camille Cohen joined First Financial Security, Inc.'s Marketing team in December of 2017. She brought with her agency experience working for clients across education, healthcare, biotech, and software. As Director of Marketing, her creative direction and expertise have now been applied to FFS' unique brand and vision for the future. Now on the client side, Camille has enjoyed the flexibility of creating possibilities and starting new initiatives as she helps shape agent experience at FFS.
"It's exciting to be working for a company that is making a difference in people's lives," Camille commented. "The best part of my job has been being able to get to know the agents and tell their stories. From finding a voice as a Hmong woman to easing the stress of a capital-intensive career, FFS agents come to us with a host of goals. Recognizing their achievements and helping them build better futures for themselves and their families is a privilege."
Camille comes to marketing via anthropology, with a Master's from Rice University and an undergraduate degree in French, Philosophy, and Anthropology from Wheaton College (IL.). After years of researching the human experience, it is no wonder that she feels so at home at a place like FFS – where the diversity of our agents and home office staff is one of our best assets.
Camille and her husband, Josh, live in Atlanta, GA, with their son Elias. Camille enjoys mixed media painting and volunteering as an artist in her spare time under the name Camille Rene. She primarily paints whimsical portraits that follow none of the brand guidelines she sticks to so closely during the day.