New $10 Join Fee; Same Great FFS Opportunity
At its recent Jump Start 2016 event, Feb. 5-6 at the Marriott Atlanta Airport Hotel, First Financial Security, Inc. Co-CEO Phil Gerlicher announced that the 10-year-old national brokerage agency was reducing its join fee from $125 to $10. With the $10 join fee, new associates will enjoy the same features that were offered at the $125 price – access to an agent back office website, ability to create their own website, the power to leverage FFS' marketing and branding strength, and opportunities for training and mentoring.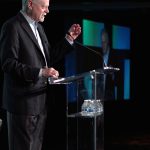 First Financial Security decided to take the bold step of keeping the fee at the lower price because it would help the organization achieve one of the major tenets of its Changing the Face of Insurance® campaign – opening up the industry to all people.
"The $10 join fee is affordable for most people and it will encourage those who are interested in a career in the financial services industry to try it out," Phil said. "There have always been barriers to entry that have made it difficult for many people who would like to work in the industry to do so. The $10 join fee effectively begins breaking down those barriers."
First Financial Security introduced the Changing the Face of Insurance campaign at its Leaders Convention 2015. The organization, its field force and home office employees are committed to working together to affect change in three areas of the industry – by whom insurance is sold, to whom it's sold and how it's sold.
One of the reasons that First Financial Security decided to undertake this campaign is the insurance industry's failure to respond to the needs of a changing America. For more than a decade, the industry has been battling a rapidly aging workforce – the average age of today's insurance agent is mid-to-late 50s1 – as well as, perceptions that it is exclusive, elitist, boring, and more interested in profits over people. The industry has done little to counter these perceptions.
"The world has changed greatly in the 30 years I've been in the industry," Phil explained. "Unfortunately, the insurance and financial services industries have been slow to keep up with the economic and societal challenges faced by many Americans today.
"When I look at our field force, I see a reflection of America today. Our associates come from all walks of life, all cultures, all backgrounds, and all corners of the country and world. If the industry is going to positively impact people's lives, then they have to recognize the shifts in America's demographics2 and economic situations, and respond in kind. This means opening the industry to diversity and inclusivity, placing emphasis on reaching out to underserved communities, and ensuring that all people have access to the financial products that will help them achieve financial security."
By accepting a more inclusive sales force, the second of the campaign's goals – changing to whom insurance is sold – can begin to be accomplished as well. First Financial Security has firsthand experience in what can happen when a diverse sales force shares with other members of their community access to financial education and innovative financial products, as well as an entrepreneurial opportunity.
"Through our long involvement with the Hmong community in Minnesota, California and other states, we've witnessed the impact on a family's future when they gain the knowledge of how money works and gain access to the tools to put their money to work for them," Phil said. "This is one of the rare industries in which you can make lasting contributions to the people you serve today and for generations to come."
1 Brian Anderson. "Facing up to an aging producer workforce." LifeHealthPro.com. Jul. 1, 2012. http://www.lifehealthpro.com/2012/07/01/facing-up-to-an-aging-producer-workforce
2 Rod Rishel. "How the life insurance industry will change in 2016." LifeHealthPro.com. Nov. 11, 2015. http://www.lifehealthpro.com/2015/11/11/how-the-life-insurance-industry-will-change-in-201?t=boomer-market&slreturn=1455906130&page=5&page_all=1